Make America Smart Again - 8645 Hat
$29.99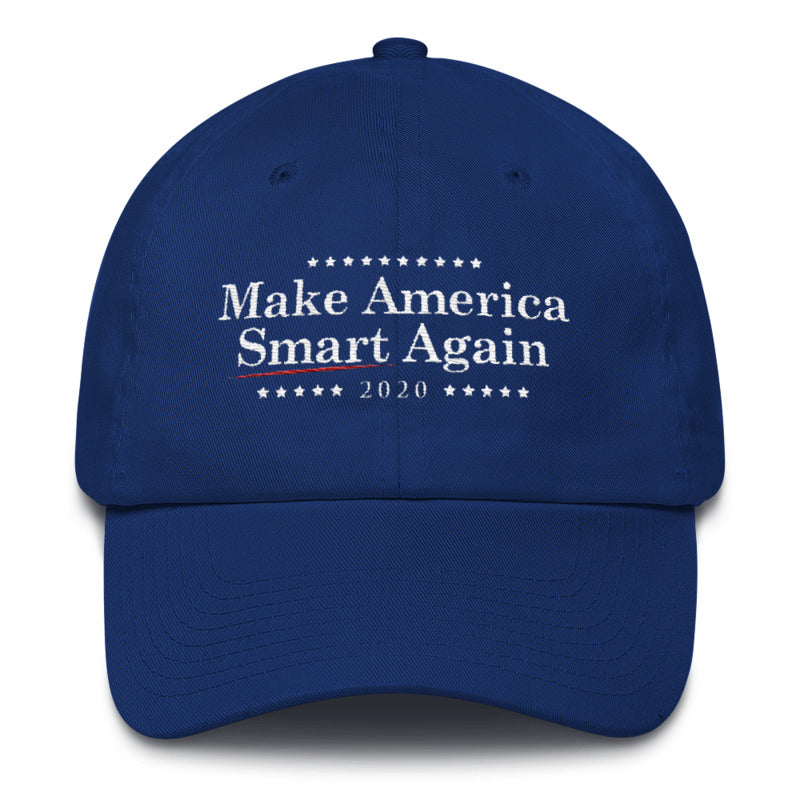 It's time to restore sanity, decency and sense to our executive branch! 
This hat is made in the USA, so wear it proud! It's unstructured with a curved visor and adjustable strap, and an American flag sewn on the back. 
50% of the profits of this item are donated to candidates running in the 2020 election cycle that support either: a single payer health care, increased gun control legislation, reducing wealth and income inequality, campaign finance reform, climate change legislation,  higher education debt reform, humane immigration reform, equal racial and LGBT+ rights, or some combination thereof.
• 50% of profits donated via ACTBLUE.com
• 100% washed cotton chino twill
• Unstructured, 6-panel, low-profile
• Adjustable strap with hide-away buckle
• Head circumference: 19 ¼" - 23 ⅝"
• Made in the USA
Make America Smart Again - 8645 Hat
Make America Smart Again - 8645 Hat
Description

It's time to restore sanity, decency and sense to our executive branch! 

This hat is made in the USA, so wear it proud! It's unstructured with a curved visor and adjustable strap, and an American flag sewn on the back. 

50% of the profits of this item are donated to candidates running in the 2020 election cycle that support either: a single payer health care, increased gun control legislation, reducing wealth and income inequality, campaign finance reform, climate change legislation,  higher education debt reform, humane immigration reform, equal racial and LGBT+ rights, or some combination thereof.

 

• 50% of profits donated via ACTBLUE.com
• 100% washed cotton chino twill
• Unstructured, 6-panel, low-profile
• Adjustable strap with hide-away buckle
• Head circumference: 19 ¼" - 23 ⅝"
• Made in the USA